Conscience and Courage examines the psychological transformation of a bystander to a rescuer through compelling accounts drawn from interviews with survivors of the Nazi campaign to exterminate the Jews of Europe in WW II.
Once a rescuer takes on the responsibility to save another person's life, they develop a heightened sense of empathy that allows them to transcend propaganda as well as overcome their own instincts for self preservation."

Eva Fogelman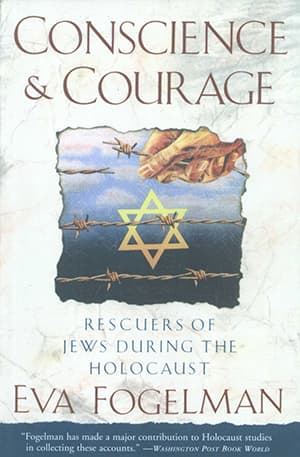 While in Israel in 1981 for the First World Gathering, I started collecting data on non-Jews who rescued Jews during World War II. This project, known as the Rescuer Project, was sponsored by Dr. John Slawson of the American Jewish Committee and became my doctoral dissertation, The Rescuers: A Socio-psychological Study of Altruistic Behavior During the Nazi Era, was presented in 1987 at the Graduate Center of the City University of New York.
My dedication to these courageous people led me in 1986 to co-found with Rabbi Harold Schulweis the Foundation to Sustain Righteous Christians, which in 1987 would become the Jewish Foundation for Christian Rescuers, a project of the Anti-Defamation League. The Foundation, today known as the Jewish Foundation for the Righteous, currently financially supports more than 450 non-Jewish rescuers worldwide.
I organized conferences at Princeton and across the United States and internationally on the subject. My research culminated in the publication of Conscience and Courage: Rescuers of Jews during the Holocaust, in 1994.
The book received an award from Amnesty International, a Christopher Award, and an award from the Unitarian Universalist Association. It was a San Francisco Chronicle bestseller. Elizabeth Swados, a Tony-nominated composer, playwright, and writer, composed and performed a cantata based on the book with the United Nations Association International Choir.
Conscience and Courage has been published in 41 editions in 3 languages and is held by 1,735 libraries worldwide.
Conscience and Courage led to my essay,  "The Rescuer Self" (1998) that was included in The Holocaust and History: The Known, the Unknown, the Disputed (1998), edited by Michael Berenbaum and Abraham J. Peck.   Growing out of the inaugural conference of the United States Holocaust Memorial Museum's Research Institute, the book defines the state of knowledge about the Holocaust a half century after the events.  My essay is in the permanent collection at Yad Vashem, the World Holocaust Remembrance Center in Jerusalem, Israel.  You can read it here by clicking the link below:
Reviews
    "This is a superb, important, inspiring book. I recommend it to everyone young and old, social scientist and layperson, to the cynics of the world-weary who despair of the human condition…
     Fogelman brilliantly illuminates the factors of personality, history, and circumstances that made some people rise to heights of caring and courage when everyone around them succumbed to moral cowardice and mindless conformity. Fogelman brings a researcher's scholarship, a therapist's sensitivity, and a writer's clarity to these stories of everyday heroes, who have been lost to history for so long."  — Carol Tavris, Ph.D., author of Anger: The Misunderstood Emotion and The Mismeasure of Woman
     "Fogelman has made a major contribution to Holocaust studies in collecting these accounts of conscience and courage…the extraordinary stories in this book must be read each for itself" –The Washington Post Book World
     "By evoking the noble along with the horrible, Ms. Fogelman helps to add a dimension to our understanding of the Holocaust. And, more than that, hers is a work of remembrance." —The New York Times Book Review
Order the Book