Stanley Milgram @ 90: What is his legacy?
Ninety years after the birth of Stanley Milgram (1933-1984), what is the legacy of this unique researcher, teacher, and essayist?
I spoke at this event. Here is what I said:
Stanley Milgram Reminiscences
Eva Fogelman, PhD
October 31, New York City
I can't help but wonder what Stanley Milgram might think watching on television in his living room, the barbaric massacre of 1,400 Israelis living in Kibbutzim on the Gaza border, and the kidnapping of 239 Israeli hostages. He probably would not be surprised about the Hamas terrorists who were following orders from their leaders, orders which were found in their pockets after their death. An added plus was a $10,000 reward and an apartment for every Israeli hostage.
Of all people, Stanley would understand the human instinct to obey authority. We all know that Stanley is best known for his experiment on Obedience to Authority for which he was criticized in more than one thousand articles.
The Stanley I knew was generous of spirit and had a great joie de vivre.

I connect Stanley to Israel because that is where I first met him in 1978. He was a keynote speaker at a social science academic conference in Jerusalem, where I was presenting a paper on the impact of the Holocaust on second generation of survivors. Today, such academic exchange is commonplace. But forty-five years ago, such a visit by a prominent scholar, was accompanied by the kind of hoopla press that Lady Gaga enjoys today.
Stanley also took a great interest in a film I was writing and producing on children of Holocaust survivors. He gave me a piece of advice. He believed that you can reach more people with film than any other medium. However, he said, "When most people watch a film, they can only take in one idea."
He asked me, what is the end goal? I took that question to heart, not just in my professional world but in my personal life. If you have children, if you are in a relationship, struggling in a job, or in a war, what is your end goal and how do you get there?
Stanley helped us toss around a few ideas, and we decided on a title, "Breaking the Silence: The Generation After the Holocaust."
Stanley made social psychology come alive. He did not just teach facts and research methods, but rather, he taught students how to think, how to be creative, and how to make the study of human behavior in different situations interesting and fun, but sometimes, painful.
Stanley knew how to make ideas come alive. When my colleague Valerie Weiner and I were to present the results of our independent study of why non-Jews risked their lives to save Jews during the Holocaust, Stanley encouraged us not to simply present results. Rather, we simulated what our fellow classmates would do if African-Americans were threatened of a death sentence in the United States and anyone who tried to help them would be killed. There is no better way to understand psychological concepts than to vicariously experience what it would be like to be in someone else's shoes.

Stanley Milgram took an interest in the lives and projects of his students, and did whatever he could to help move the process to finishing products. When I encountered problems with my co-producer, Stanley spent a considerable amount of time to strategize how to resolve the conflict.
I'll never forget the time he took off a lunch hour to sit and craft a query letter to Psychology Today for Valerie Wiener and me to suggest an article about our preliminary findings about rescuers of Jews during the Holocaust. Of course, the editor responded to an idea that Stanley suggested, and it was quite thrilling as a graduate student to have an article published in Psychology Today.
As I said, Stanley did not just stand and teach in front of the classroom. He created a caring community in the social and personality psychology department. He took brown-bag lunches seriously. He was always there whether a student was presenting, or an important scholar from the outside or from the Graduate Center. Christmas parties were not just an opportunity to drink and munch on goodies. There had to be food for the mind, the ears, the eyes, not just for taste and smell. Skits were prepared to highlight important events in the department and how life in the department interfaced with real world events. Without Stanley, the Christmas party was never the same.

My husband, Jerome Chanes, never had the opportunity to meet Stanley; but it is as if he knows him, and Stanley is sometimes with us in spirit. When we go to the theater or some other public events, we sometimes ask each other: "What would Stanley say about this crowd?"
Stanley Milgram was committed to understanding ethical problems. He believed in those things that would make people act ethically. He did not believe in torture. How ironic it is that in the public mind he is associated with torture, rather than, with ethical behavior. The reaction to Stanley Milgram's Obedience Studies is not surprising. After World War II, researchers were rationalizing Germany's annihilation of the Jews, rather than focusing on the evil that was perpetrated. Victims who survived were blamed for survival. He or she must have done something devious in order to survive. Stanley is blamed for having forced people to confront their own evil instincts, and so they blame him for their own uneasiness with themselves.
In 1985, when I returned from showing my film at the Berlin Film Festival, a few days had passed, and I did not get a chance to have a conversation with Stanley about the trip. He called me to set up a time to discuss my adventures because he said, "a trip needs to be discussed before time goes by." I immediately went to see him.

Later that year, I went to Stanley's office, and he enthusiastically approved my proposal for my doctoral dissertation. This time and to my lasting regret Stanley died before he would see the end result, which also culminated in a published book.

Were Stanley here he would ask Israel the same question he asked me. What is the end goal and how do you plan to get there? He would expect Israel to have in advance a strategy for governance of Gaza after Hamas is ousted. He believed that there should be a logical conclusion to whatever you set out to do whether it was a film, a research project or a war.
I would like to end with Stanley's favorite song, and now mine too.

The whole world is a very narrow bridge; but most important is not to fear at all.

Please join me.
kol haholam kulo, gesher tzar mehod, v'ahikar v'hahikar lo l'fached klal.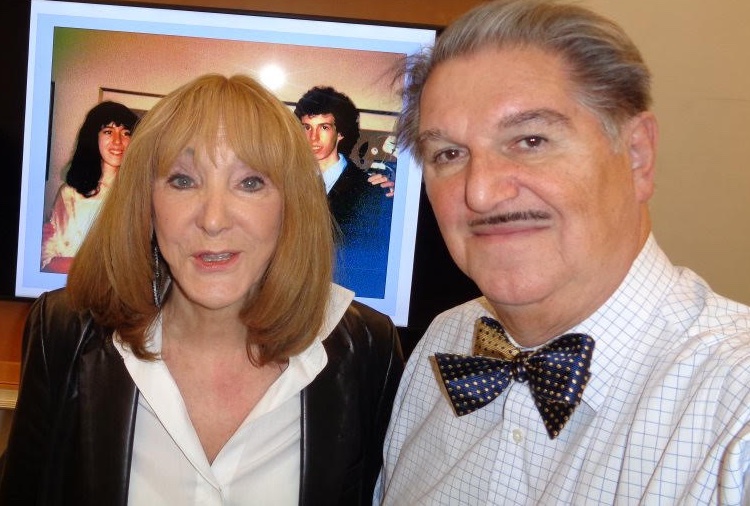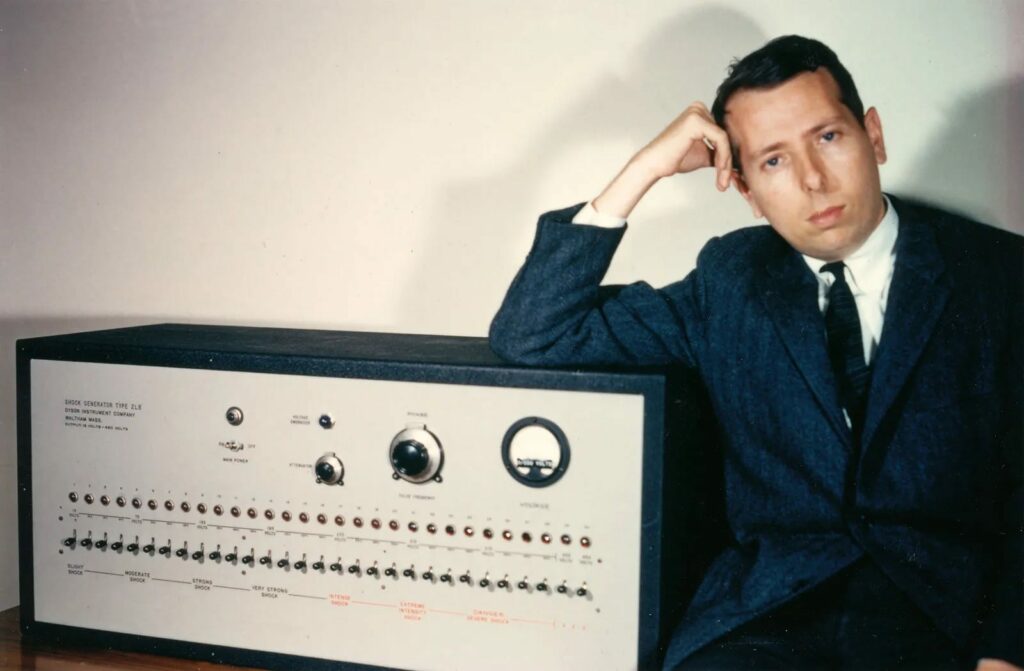 This forum brings together Milgram's students and colleagues to share diverse aspects of his impact on society.
When and Where?
Tuesday, 31 October 2023, 7:15-8:45 pm, Fordham at Lincoln Center, 113 West 60 St., room 1020
This forum is hosted by Fordham University, in cooperation with Manhattan Psychological Association, and APA Division of Social Issues, www.spssi.org/ For any details: takoosh@aol.com
Panelists on Stanley Milgram as an inspired scholar: David M. Mantell & Fredda Mantell (obedience), Eugen Tarnow (obedience), Kurt T. Brintzenhofe (queues) Kevin Corti (Cyranoids), Philip G. Zimbardo (by video) Panelists on Stanley Milgram as an inspiring teacher: (invited) Elaine H. Olaoye, Kathryn Hahner, Eva Fogelman, Pearl Beck, Bethamie Horowitz, Harold Takooshian.
Yale University, 1961. Stanley Milgram (Peter Sarsgaard) designs a psychology experiment that still resonates to this day, in which people think they're delivering painful electric shocks to an affable stranger (Jim Gaffigan) strapped into a chair in another room. Despite his pleads for mercy, the majority of subjects don't stop the experiment, administering what they think is a near-fatal electric shock, simply because they've been told to do so. With Nazi Adolf Eichmann's trial airing in living rooms across America, Milgram strikes a nerve in popular culture and the scientific community with his exploration into people's tendency to comply with authority. Celebrated in some circles, he is also accused of being a deceptive, manipulative monster, but his wife Sasha (Winona Ryder) stands by him through it all. EXPERIMENTER invites us inside Milgram's whirring mind in this bracing portrait of a brilliant man whose conscience and creative spirit continues to be resonant, poignant, and inspirational.
Experimenter: The Stanley Milgram Story is a 2015 American biographical drama film written and directed by Michael Almereyda, based on the 1961 Milgram experiment. The film stars Peter Sarsgaard, Winona Ryder, Taryn Manning, Kellan Lutz, Anton Yelchin, John Leguizamo, Lori Singer, Dennis Haysbert, Anthony Edwards, and Jim Gaffigan.
Plot
The film is based on the true story of famed social psychologist Stanley Milgram, who in 1961 conducted a series of radical behavior experiments at Yale University that tested the willingness of ordinary humans to obey an authority figure while administering electric shocks to strangers. In the first half of the film, it is shown how the experiments are conducted, with nearly every test subject succumbing to the pressure of the circumstances and administering shocks to a stranger, despite the stranger begging him to stop. Between the experiments, it is shown how Milgram meets Alexandra (or Sasha), who will become his wife and mother of two children.
The second half of the film shows how Milgram struggles with the public outcry about the ethics of the experiments and how his career advances as he becomes a professor in New York City and continues to study social interactions and social pressure in more benign experimental settings, including the small-world experiment, the lost-letter experiment, the street-corner (or gawking) experiment, the familiar stranger experiment, and various experiments that he makes his students carry out.
Archive footage occurs frequently, either as recordings that Milgram watches or as a backdrop for entire scenes. Milgram's work continues until he dies from a heart attack at the age of 51. In the final scene, the street-corner experiment is repeated in the present day, with a cameo of the real-life Sasha Milgram. In a mid-credits scene, more archival footage is shown.
See also: The Tenth Level 1975 | William Shatner
Society for the Psychological Study of Social Issues
takoosh@aol.com