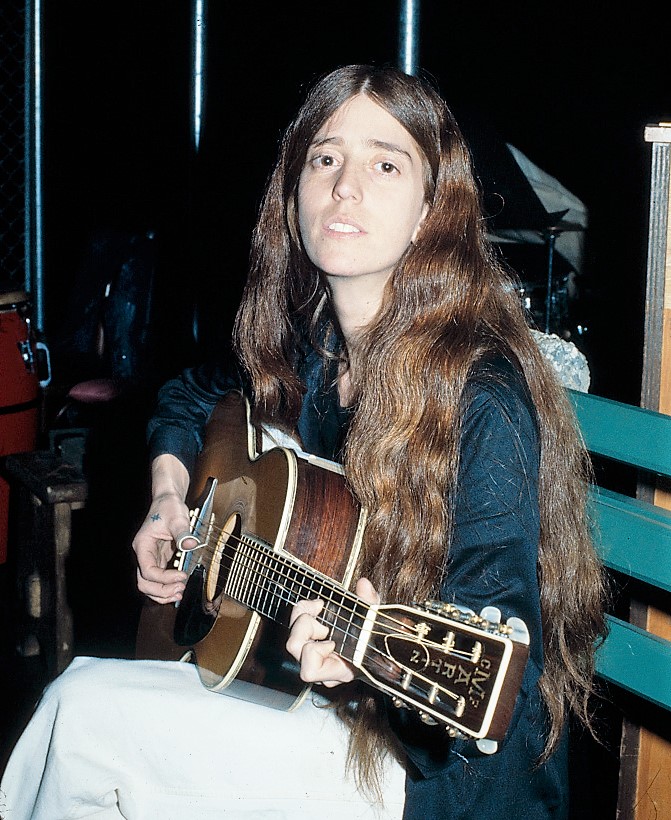 My dear friend Liz Swados who died too young wrote the lyrics and music for a Conscience and Courage Rescuers of Jews During the Holocaust Cantata based on my book with the same title. The Cantata was preformed at the United Nations by the United Nations choir. This event was part of a Holocaust commemoration sponsored by the Jewish Club of the UN. In 1994, it was the first Holocaust commemoration to be held at the UN Eva Fogelman was the keynote speaker. the Honorable Israel in Ambassador to the United Nations in New York Gad Yaacobi presented as well.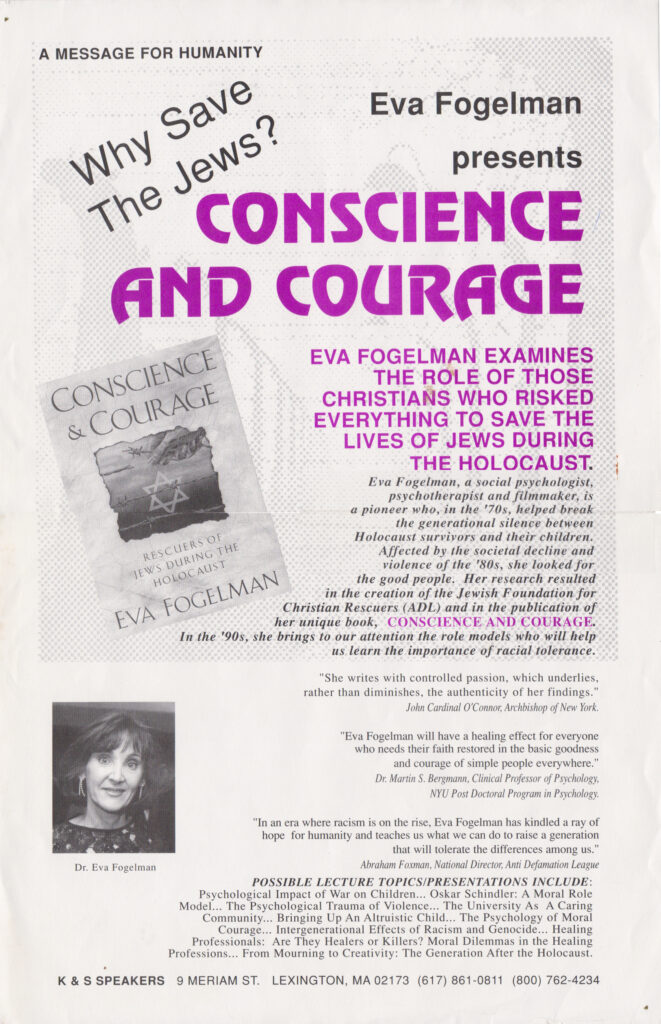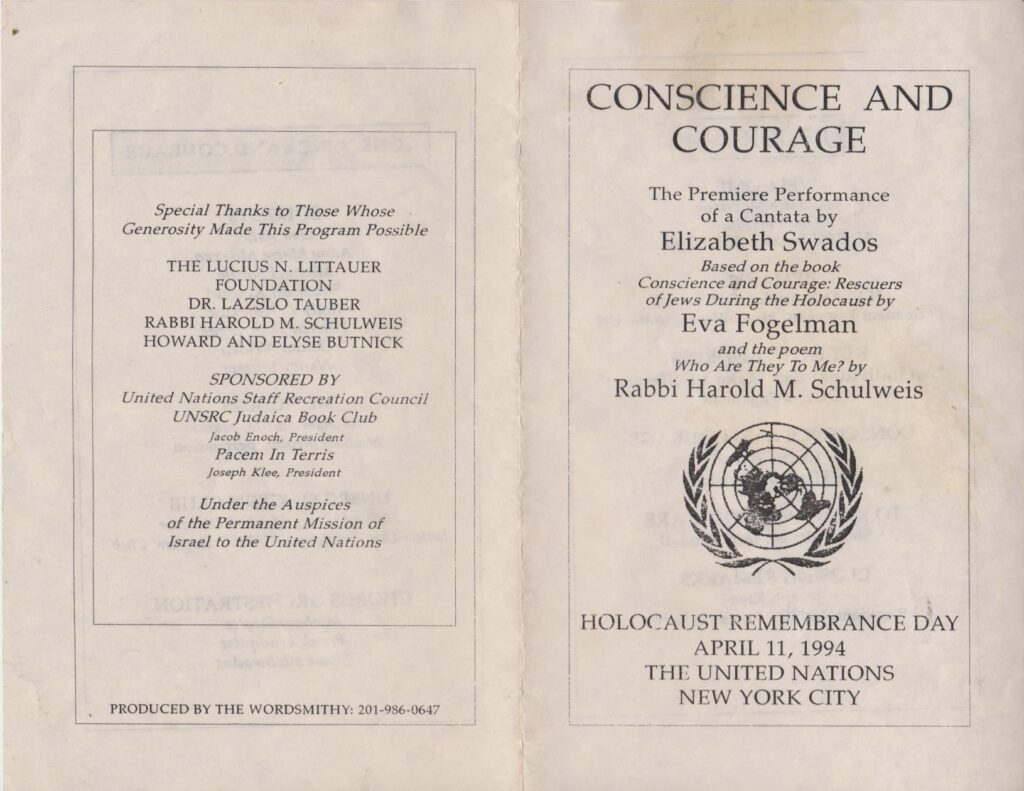 A MESSAGE FOR HUMANITY
Eva Fogelman
presents
Conscience and Courage
EVA FOGELMAN EXAMINES
THE ROLE OF THOSE
CHRISTIANS WHO RISKED
EVERYTHING TO SAVE THE
LIVES OF JEWS DURING
THE HOLOCAUST.
Eva Fogelman, a social psychologist, psychotherapist and filmmaker, is a pioneer who, in the '70s, helped break the generational silence between Holocaust survivors and their children.
Affected by the societal decline and violence of the '80s, she looked for the good people. Her research resulted in the creation of the Jewish Foundation for Christian Rescuers (ADL) and in the publication of her unique book, CONSCIENCE AND COURAGE.
In the '90s, she brings to our attention the role models who will help us learn the importance of racial tolerance.
"She writes with controlled passion, which underlies, rather than diminishes, the authenticity of her findings."
John Cardinal O'Connor, Archbishop of New York.
"Eva Fogelman will have a healing effect for everyone who needs their faith restored in the basic goodness and courage of simple people everywhere."
Dr. Martin S. Bergmann, Clinical Professor of Psychology, NYU Post Doctoral Program in Psychology.
"In an era where racism is on the rise, Eva Fogelman has kindled a ray of hope for humanity and teaches us what we can do to raise a generation that will tolerate the differences among us."
Abraham Foxman, National Director, Anti Defamation League
POSSIBLE LECTURE TOPICS/PRESENTATIONS INCLUDE:
Psychological Impact of War on Children… Oskar Schindler: A Moral Role
Model… The Psychological Trauma of Violence… The University As A Caring
Community… Bringing Up An Altruistic Child… The Psychology of Moral
Courage… Intergenerational Effects of Racism and Genocide… Healing
Professionals: Are They Healers or Killers? Moral Dilemmas in the Healing
Professions… From Mourning to Creativity: The Generation After the Holocaust.
HOLOCAUST REMEMBRANCE DAY
APRIL 11, 1994
THE UNITED NATIONS
NEW YORK CITY
CONSCIENCE AND COURAGE | The Premiere Performance of a Cantata by Elizabeth Swados
Based on the book Conscience and Courage: Rescuers of Jews During the Holocaust by Eva Fogelman
and the poem
Who Are They To Me? by Rabbi Harold M. Schulweis
Special Thanks to Those Whose Generosity Made This Program Possible
THE LUCIUS N. LITTAUER FOUNDATION
DR. LAZSLO TAUBER
RABBI HAROLD M. SCHULWEIS
HOWARD AND ELYSE BUTNICK
SPONSORED BY United Nations Staff Recreation Council
UNSRC Judaica Book Club
Jacob Enoch, President
Pacem In Terris
Joseph Klee, President
Under the Auspices
of the Permanent Mission of
Israel to the United Nations
PROGRAM |
WELCOME
Jeannette Morrison
Vice-President
UNSRC Judaica Book Club
REMARKS
H.E. Ambassador Gad Yacobi
Permanent Representative of Israel to the UN
KEY NOTE ADDRESS
"An Individual Can Make a Difference"
Dr. Eva Fogelman
CONSCIENCE AND COURAGE
CONTATA
by Elizabeth Swados
TO KNOW WHO THEY ARE
A Short Film by Terri Randall
CLOSING REMARKS
Joseph Klee
President, UNSRC Pacem In Terris
CONSCIENCE AND COURAGE |
SOLOISTS
Lisa Asher
Anne Marie Milazzo
Michael Sottile
Eric Scott Kincaid
Kelly L. Newkirk
Vincent D. Stringer
Daniel Neiden
Nancy Slusser
MUSICIANS
Michael Sottile, piano
Michael Sirotta, percussion
UNSRC SINGER'S CLUB
Nellie Vuksic, Musical Director
Isolda Oca, President, UNSRC Singers' Club
CHORUS ORCHESTRATION
Michael Sirotta
Frank Lindquist
Elizabeth Swados